Internet
WiFi Access in YCCC Parking Lot (Updated 03/31/20)
We are pleased to announce a new expanded WiFi network for the campus community to use. While we have had to restrict access to the buildings on campus, the wireless network is still accessible in the Wells parking lot. With that in mind we have opened up campus wireless so that anyone with a college email address can securely use the internet with less restrictions then before. The name of the new campus wireless network is simply YCCC Campus.
The designated area will be identified with signs. The PDF here includes a google map view to give you an idea of where the parking spaces are.
---
WiFi Hotspots in Maine (Updated 04/15/20)
If you are having difficulty accessing WiFi in your current location, please check out the link below which includes a map of WiFi hotspots in Maine. Click here.
Sanford Area Residents - Internet WiFi Access Points (Updated 03/31/20)
For all Sanford area residents, please click here for a list of Internet Access points. Most access points are through school, public offices or local businesses.
---
A map of available educational sites across Maine currently providing internet access (as of March 13, 2020) is available. Please check the website information provided for each site for schedule of hours.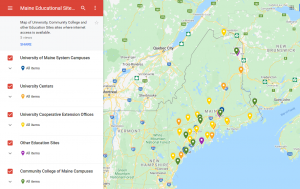 ---
A listing of Public Libraries in Maine is also available
​
---